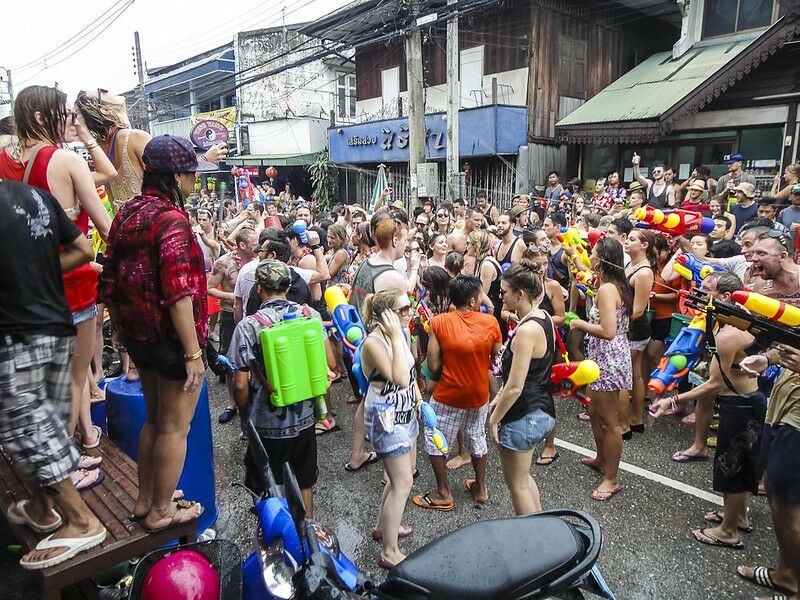 Photo by John Shedrick on flickr
The question of whether or not to allow massive water fights to celebrate Songkran, the Thai New Year, will be discussed on March 18 at a Centre for Covid-19 Situation Administration meeting. The celebrations with water guns and splashing have been called off for the past two years to prevent the spread of Covid-19.
Recently, the Department of Disease Control warned that the holiday's water fights from April 13 to 15 would most likely be cancelled if the new Covid-19 infection count reaches 30,000 in one day. Yesterday, the CCSA reported 21,162 new cases with 65 related deaths. A spokesperson says the number of Covid-19 patients with moderate to severe symptoms has increased.
While the number of new cases is getting closer to the threshold to call off the water fights, a CCSA spokesperson says people will still be allowed to travel during Songkran. She added that celebrations, like the water fights, will need to at least be held under preventative measures, but no regulations have been officially set.
The spokesperson says the Department of Health has proposed the safety measures for Songkran, which will be discussed by the CCSA on March 18. Other relevant departments will be invited to join the discussion, including the Public Health Ministry, Tourism and Sports Ministry, and the Royal Thai Police.
With many Thais planning trips to see their families during Songkran, authorities are urging the elderly to get vaccinated before the holiday.
SOURCE: WorkpointTODAY | Bangkokbiznews
10,336 , 4