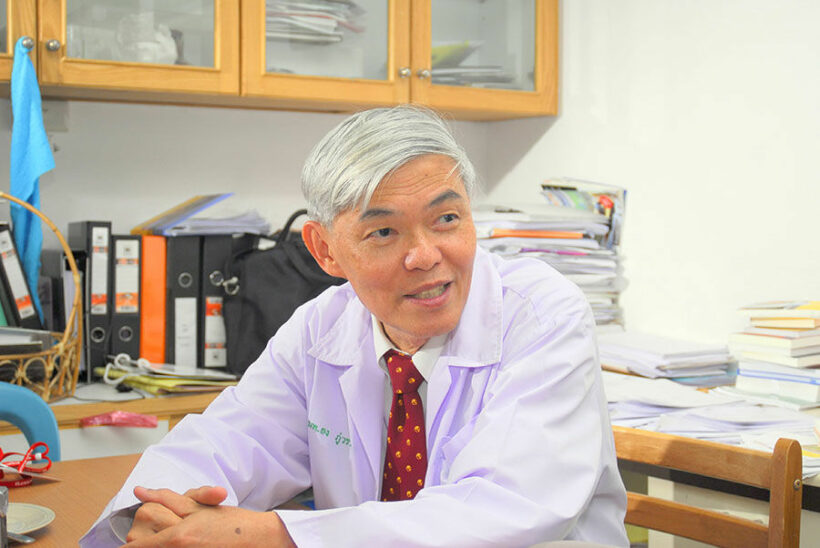 One of Thailand's most respected experts in virology says daily new infections in the country could reach 100,000. Dr. Yong Poovorawan from the Centre of Excellence in Clinical Virology at Chulalongkorn University says the rapid spread of the Omicron sub-variant, BA.2, has taken daily infections to 15,000 in Singapore, where the population is a tenth that of Thailand. If the spread follows a similar pattern here, Thailand could soon see 100,000 cases a day.
Yong says infections in Thailand will have to reach their peak before they begin to level off and drop, as has been seen in several European countries and the US. Given that daily new cases will continue to rise for now, the virologist says everyone must do their utmost to reduce their risk of contracting the virus.
People who do test positive should have this confirmed by PCR test and then self-isolate at home or in community isolation facilities. He goes on to say that if 100,000 people a day were to take a PCR test, with each test costing an average of 1,000 baht, the total cost for just 1 day would be around 100 million baht. In that situation, it would be impossible for everyone who tests positive to be admitted to hospital.
According to a Thai PBS World report, Yong says Thailand's current rate of infection is 10 times what was seen in the first 4 waves of the virus.
"We saw a 2-digit daily infection rate in the first wave, a 3-digit rate in the second wave, a 4-digit rate in the third wave, and a 5-digit daily infection rate in the fourth wave, which was dominated by the Delta variant. Now, we are in the 5th wave and I am not sure whether infections will surge to 6 digits but I don't want to see such figures."
SOURCE: Thai PBS World
7,166 , 4