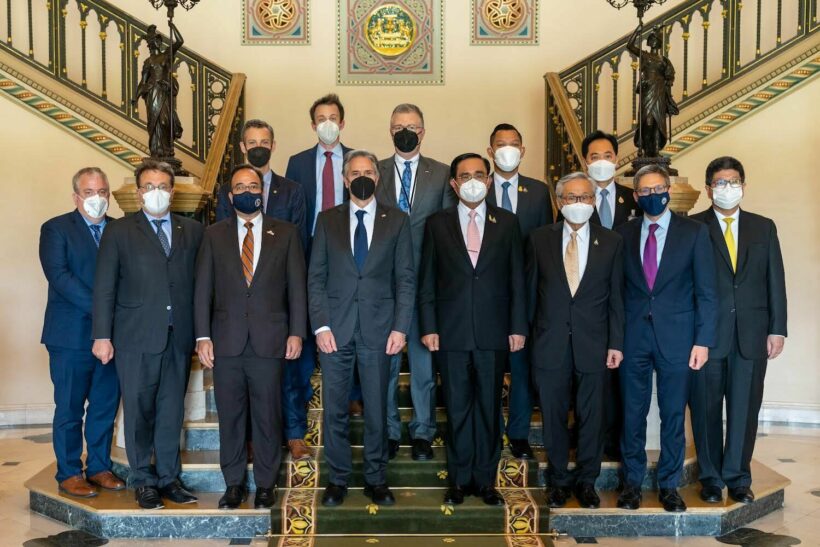 Thailand still appears to be a pawn in the ongoing economic war between the US and China – or is it?
US Secretary of State Antony Blinken met with Thailand PM Prayut Chan-o-cha, and Foreign Affairs Minister, Don Pramudwinai, on Sunday, as part of his Southeast Asia tour.
The Thai PM welcomed the US diplomat and stated his happiness in continuing bilateral ties between the two nations especially as next year marks 190 years of diplomatic ties.
Blinken said he welcomed the opportunity to help shape the Thai economy that will benefit both Thailand and the US.
The 60 year old signed two agreements on Sunday with the Thai Foreign Affairs Minister to enhance cooperation in tackling bilateral, regional, and international challenges.
The Memorandum of Understanding on Promoting Supply Chain Resilience allows the two parties to enhance information sharing and consultation to reduce supply chain vulnerabilities, minimize disruptions in production and transportation, and ensure access to critical goods in both countries and the global market.
The other agreement is about cooperation in renewable energy, including promoting clean and renewable technologies such as electric vehicles and carbon capture technology.
Only last week PM Prayut met Chinese Foreign Minister Wang Yi met at Government House to discuss greater trade, economic cooperation, investment, and connectivity in a year that marks the 10th anniversary of the establishment of the comprehensive strategic cooperative partnership between the two countries.
The two sides reached a consensus on four aspects: To develop bilateral ties, work towards the early opening of the China-Laos-Thailand railway, jointly safeguard cyber security, and push for positive results at the Asia-Pacific Economic Cooperation Economic Leaders' Meeting to be held in Thailand later this year.
Thailand has been warned about its overdependence on China's economy in the past but maybe the small Asian nation is a bit savvier than the two economic giants.
It's no secret the US is keen to build up more alliances with ASEAN countries to keep the Chinese economy at bay while China wants to keep US influence as far away as possible from the South China Sea.
But it appears Thailand is comfortable with that. The kingdom is happy to let China and the US continue their childish spat and be courted by both countries as it is an economic benefit to Thailand.
The Thai government, for all its domestic faults, has shown over the past two weeks it is more than capable of conducting business on the foreign stage with two of the globe's biggest hitters.
Having economic investment from both countries can only be a benefit to Thailand, so long may it continue, where they play them both off against one another. How it ends, nobody knows at this point. Geopolitics is a long drawn out affair – a bit like a game of chess.
Source: People's Daily Bangkok Post
11,390 , 4