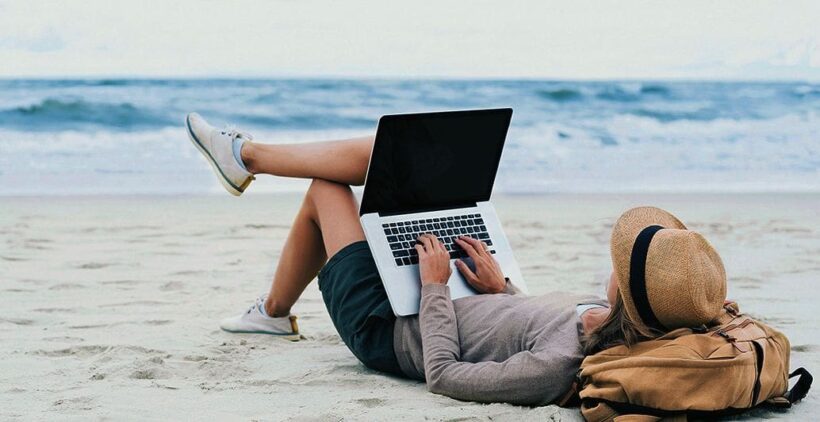 FILE PHOTO: Digital nomads, along with the wealthy, retirees, and highly-skilled workers, are targeted for a proposed 10-year visa proposal.
Perhaps tired of piecemeal baby steps to attract tourists while missing the bigger picture, The Tourism Authority of Thailand proposed a sweeping plan to give 4 target groups easy access to live, work and prosper in Thailand for a decade at a time.
The radical proposal was presented to PM Prayut Chan-o-cha in a video conference call yesterday. While the Centre for Covid-19 Situation Administration and the Cabinet will consider the proposal, the 10 year visa for key demographics is extremely preliminary at this time but would be a boon for many who want to stay long-term in Thailand but can't navigate its complex and restrictive visa options.
The plan would allow some to work in Thailand without a work permit, buy land and property, pay a 17% tax rate on local earnings, and get a visa to stay for up to ten years. Get out our tourism money bingo cards: the 4 target groups for this proposal are rich people, digital nomads, retirees, and highly skilled workers.
With a goal of luring in 1 million people, TAT is predicting 1 trillion baht in revenue, as they are targeting people they believe will contribute at least 1 million baht annually to the local economy. They also expect an additional 800 billion baht to be invested in Thailand from 10,000 foreign investors and 80,000 retirees.
Aside from the obvious economic benefit, Thailand hopes the 10-year visa plan brings an influx of brains into the country, attracting experts and a wealth of knowledge, skillsets and abilities from highly skilled foreigners attracted to the new less-restrictive rules for living in Thailand. Of course, the government is eying a profit in this area as well, projecting 500 billion baht in taxes from 400,000 skilled workers.
So what are the rules and qualifications? Here's a breakdown for each of the target markets:
Wealthy
Thailand is not looking for the upper-middle class here. They want millionaires. In US dollars, interested people must have $1 million in assets and $100,000 in health insurance. They must invest $500,000 in real estate or Thai government bonds and have at least $80,000 in income over the last 2 years.
Those who qualify would get a 10-year visa and would be permitted to buy property and land. They would be allowed to work 20 hours a week without a work permit. Foreign income would be tax-free and local income would be taxed at 17%. There are no age restrictions, but a person must have investments, assets, decent salaries, and plans to travel to Thailand frequently.
Digital Nomads
Backpackers with a laptop and a blog, don't hold your breath. This proposal is looking at employees at billion-dollar companies, or stock traders for businesses trading at least US $50 million a year over the last 3 years. To qualify, a person must have a bachelor's degree and 5 years experience, $40,000 a year income (or $80,000 in 2 years), and $100,000 in health insurance.
Thailand hopes to attract people close to retirement age in this category, but there is no age restriction. This category also gets a 10-year visa, can work without a permit, buy property and land, and a 17% tax rate on local earnings.
Retirees
Got a bunch of money and some grey hairs? This one might be for you. The option would be open for anyone over 50 with that same $40,000 yearly income (or $80,000 in 2 years) and $100,000 of health insurance. They will have to prove a long-term pension and invest $250,000 in government bonds or real estate.
As with the wealthy, retirees would get a 10-year visa and be allowed to buy property and land, work 20 hours a week without a work permit, and pay a 17% tax rate on local earnings.
Skilled Workers
To qualify for this category, a person would need to have abilities or skill sets that set them apart and make them a value to Thailand. University professors, specialised scientists, or highly-skilled workers in the industrial or tech sectors would fall into this group.
They would have to meet the same $40,000 a year or $80,000 in 2 years as well as hold the $100,000 insurance like other target groups and would be afforded the same 10-year visa and other benefits that the other groups receive.
SOURCE: Thaivisa
7,030 , 3