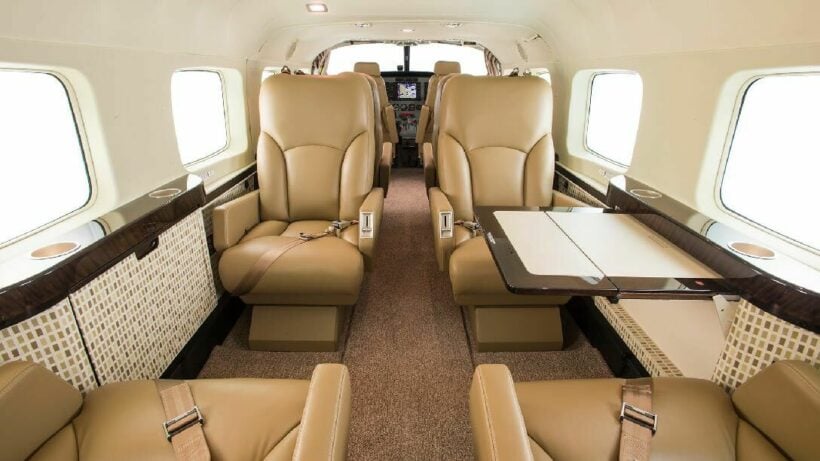 Photos courtesy of Siam Seaplane
There's an innovative new company that is going to drastically reduce the time required to get to your holiday destination and get to those hard to get to beach resorts in the Land of Smiles.
Siam Seaplane will offer Thailand's first premium amphibious seaplane service, providing faster, easier and seamless access to waterfront locations such as resorts, and marinas.
Getting to these locations can be a hassle, time-consuming, and require various means of transportation. Guests arrive at their resort tired and unhappy. An example of a valuable time saving would be the one-hour flight Siam Seaplane offers to Koh Kood. Normally this trip could take a whole day if done by road and ferry.
And this service won't just cater to the wealthy. A one-way ticket on a shared flight to Hua Hin from Bangkok would be around THB 7,000 or a private charter (up to eight guests) for that trip would be THB 45,000.
Siam Seaplane is environmentally friendly. There is minimal surface noise pollution, thanks to the airline's highly efficient turbine-powered aircraft producing 30% less noise than conventional large transport aircraft. Seaplanes also only require a short distance for take-off and landing.
Unlike boats, seaplanes do not cause any disturbance to the underwater marine life and ecosystem, as they do not have underwater propellers. Moreover, the minimal immersion of aircraft floats of only two feet in the water does not pose a risk for marine species or corals.
Siam Seaplane's aircraft, the Cessna Grand Caravan C208 EX Amphibian has been dubbed the "world's ultimate utility vehicle", but they can also be reconfigured within minutes for VIP use, medical evacuations or cargo operations. Air-conditioning and USB charging ports are standard. The maximum cruise speed on the Caravan EX Amphibian is 164 kts (or just over 300 km/h).
Cessna is part of Textron, the world's leading aircraft manufacturer, exceeding 100 million flight hours across their aircraft models. And the Cessna Grand Caravan EX is less noisy than a typical speedboat.
There are 4 different ways to offload passengers once a seaplane gets to the destination. 1. By docking, this method ensures a safe and stable transfer of passengers directly to the ground. 2. Mooring & boat transfer is a combination of two methods where the plane is anchored in the sea and the passengers are picked up by boat. This method is used when there is not enough water depth. 3. Floating platform: this type of platform rises and falls along with waves and tides. It is similar to docking. The platform will be carefully designed for the stability and safety of the people on it. 4. Last but not least, beaching is one of the easiest methods but must be carried out carefully as it might conflict with others such as swimmers. It also depends on the firmness on the shoreline.
Conventional aviation fuels have both CO2 & lead emissions. Siam Seaplane's highly efficient Pratt & Whitney turbine engines utilise highly refined kerosene as fuel which is up to 90% more efficient than conventional piston engines. Turbine engines emit zero lead into the environment, unlike conventional aircraft. Seaplane operations will be conducted in daylight hours only, both for safety and the passengers' enjoyment of the ultimate views of Thailand's beautiful geography.
Partners include luxury waterfront resorts, such as InterContinental Phuket, the Naka Island Luxury Collection Resort & Spa, Four Seasons, CROSS Tolani hotels, Jomtien Ocean Marina, Hyatt Hua Hin, and many others.
Major players in the tourism community are already starting to take notice of Siam Seaplane as Yuthasak Supasorn, the TAT Governor said, "Siam Seaplane is part and parcel of the recovery plan for Thailand," or Bjorn Courage, GM of the Intercontinental Phuket, noted, "The sky will brighten up with Siam Seaplane's operation and create a whole new dimension of Thai tourism by conveniently unlocking every corner of the nation; the sky is truly the limit."
The company will be based out of Bangkok and start operating in 2022, flying out of both Don Mueang and Suvarnabhumi. Its furthest reach from the Thai capital would be around 1.5 hrs flight time, which can go as far as Koh Samui. In time, a second base will be opened in Phuket. Siam Seaplane will be on hand to answer all your questions at the Thailand International Boat Show, to be held at the Royal Phuket Marina from January 6-9 next year.
(Did you know that during the 1930s, a section of the Chao Phraya River was used as a water aerodrome for commercial flights as Don Muang airport was mostly for military use. That part of the river was wide enough, with a 2 km long runway and no heavy water traffic. Still today, it is called "Sanambinnarm" sub-district, which means 'water aerodrome".)
10,662 , 12