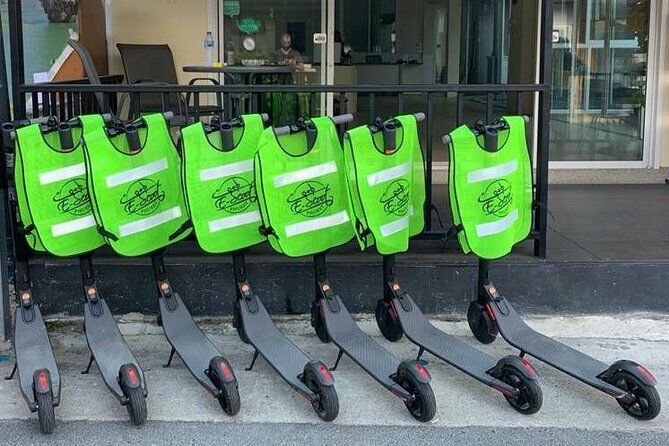 A row of electric scooters for rental sits outside a cafe in Phuket. Credit: E-Scoot Phuket | Viator
In the wake of last week's "scooter-gate" crackdown in Patong, electric scooters have now been officially banned from all public roads in Phuket.
Local police stations received an official notice from Major General Sermphan yesterday clarifying how the stand-up form of scooter transportation, popular among tourists on the island, fits in with existing traffic laws.
He stated that anyone caught riding an electric scooter on a public road could be fined up to 10,000 baht under section 6 of the motor vehicle act for operating an unregistered vehicle on a public road.
No license exists or electric scooters, so offenders could also be charged with unlicensed operation of a vehicle, Sermphan said. That's because the Department of Land Transport does not recognize the scooters as vehicles, so they can't be registered and no license given for their operation.
"Electric scooters may be used in parks, but not on the roads."
But local municipalities have not yet announced whether electric scooters can actually be ridden in their public recreation areas, which is under their jurisdiction to decide, The Phuket News reported.
The existing penalty for driving without a license is a fine of up to 9,000 baht and/or up to 6 months in prison. Police offers have been asked to give a warning before issuing a fine or arresting offenders.
The announcement follows last week "scooter-gate" crackdown, when police in the tourist area of Patong seized four electric scooters and arrested the tourists who were riding them on the street.
A viral video of the event has sparked criticism online among netizens who questioned why the police would arrest the tourists, instead of going straight to the source — scooter rental companies that have been allowed to operate in the city.
In Phuket, electric scooters are a popular form of transportation among tourists, who can easily book a scooter tour of the island.
Local police warned that those caught riding unregistered vehicles would be charged and fined.
Yesterday, the Patong police chief ordered officers to notify scooter rental operators about the regulations for use of electric scooters, including where they can be used and parked and the fact that they can't be driven on public roads.
"It would be dangerous for people who use the roads, and usually the people who use electric scooters are mostly tourists."
After being informed that they would be held responsible in case of an accident, rental operators in Patong agreed to suspend all rentals.
The chief reiterated the fact that riding a scoter on public roads is illegal under current laws, and offenders could be fined up to 10,000 baht and would be automatically at fault in case of an accident.
SOURCE: The Phuket News
10,802 , 4