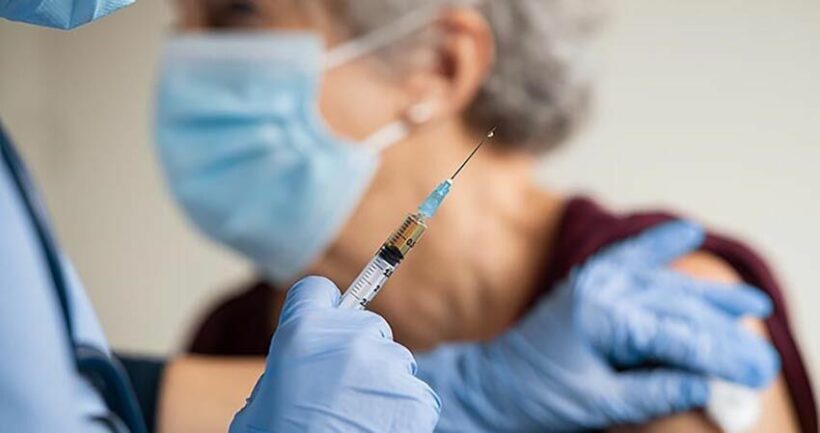 Health officials plan to administer booster vaccine doses to 70% of Thailand's elderly population ahead of the Songkran holiday in April. According to a Bangkok Post report, the Department of Disease Control says it doesn't want to see a repeat of last year, when infections and deaths rose significantly after the Thai New Year holiday, due to the limited availability of vaccines.
Wicharn Pawan, who heads up the communicable diseases division of the DDC, says the rollout of booster doses is being accelerated to protect the elderly ahead of holiday visits from family members.
"The ministry won't be taking any chances this year and will speed up the rollout of booster shots for the elderly before the holiday exodus begins."
Wicharn says a third dose of a Covid-19 vaccine can help reduce the risk of serious illness and death by 41 times, as he urged those who have not already done so to come forward for vaccination. Provincial public health officials have been instructed to check the vaccination status of residents in their jurisdiction and to offer a booster dose to all senior citizens. Wicharn says other relevant agencies, along with the private sector, are being asked to work with the government to ensure the 70% target can be met on time.
"Elderly citizens who are due for a booster shot should get them before Songkran. About 3 million doses have been prepared for this age group."
The health chief has also urged people who plan to return to their home provinces for the holiday to get their booster doses before travelling, and to avoid indulging in any activities that could increase their chances of contracting the virus.
According to a study carried out by the Faculty of Public Health at Chiang Mai University, a third dose of a Covid-19 vaccine offers 68% more protection against the highly-contagious Omicron variant when compared to 2 doses of the vaccine. A fourth shot offers 82% more protection.
"Two shots could prevent death, but do we still need a booster shot? I have to say (a third shot) is necessary because it increases protection against infection. Early protection can significantly reduce the risk of death."
SOURCE: Bangkok Post
10,033 , 4